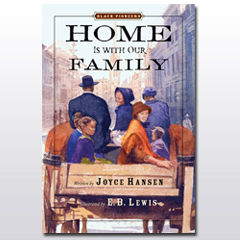 It is the mid 19th century and Maria Peter's life is changing. Rumor has it that the city is planning to knock down the homes of the free colored men and their families in the New York neighborhood where Maria lives. Though she is looking forward to her 13th birthday and being treated like an adult, she can't help worrying about what will become of her family if they are forced to leave their home.

Home Is with Our Family has many questions about friendship and doing the right thing, but I think the biggest question is in the title. Where is home? Maria is certain that home is her mother's general store and the cozy little home she shares with her parents and siblings, but by the end of the book she knows better. Home is with the people we love, no matter what happens. Led by her idol Sojourner Truth, a well-known abolitionist, Maria became a stronger, wiser person and you grow to like her more throughout the book

I recommend this book to anyone who likes historical fiction and a good read. I hope you enjoy it as much as I did!